There's something intrinsically soothing about the process of creating. Exposure to visual art and participation in creative activities, which stimulate both brain hemispheres, have been found to alter the brain in positive ways. Art has therapeutic effects that benefit individuals dealing with mental health challenges and can help maintain mental wellness for those already in a good place.
Americans for the Arts has cited that creativity's physiological benefits include improved cell function, enhanced brain function and memory, and decreased need for medications and treatment in hospitals. It's also associated with longevity.
Moreover, creativity promotes the growth of neurons and boosts the release of our body's natural anti-depressant, the neurotransmitter dopamine.
With many different types of art — such as painting, drawing, sculpture, poetry, music, dance, and dramatic arts — people can pursue the options that appeal to them most and that they feel most comfortable with.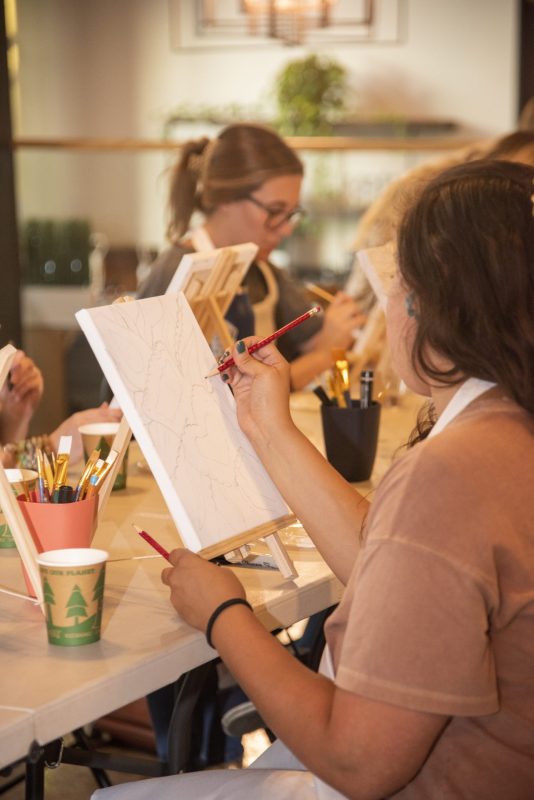 Using Art to Enhance Wellness
According to art therapist Heather Hostetter, MA, MBA, ATR-BC, LPC, who leads our Wellness Through Art: Coping & Creating classes, "Art is powerful! There's so much feeling, heart, and soul in a picture that words can't always capture. And with that power, there is healing."
Heather shared that Hempfield Apothetique's Wellness Through Art classes allow participants to access that power and learn skills that help them on their wellness journey.
She noted it's important to understand the difference between art therapy and Wellness Through Art. "Per the American Art Therapy Association (2023), art therapy is a 'mental health profession that enriches the lives of individuals, families, and communities through active art-making, creative process, applied psychological theory, and human experience within a psychotherapeutic relationship.'"
She explained that art therapy is effective for various behavioral health concerns and can be practiced in a variety of locations.
"Wellness Through Art offers you the chance to make art in a safe environment while learning coping skills," said Heather. "It offers respite for your soul while embracing you with joy, laughter, and the experience of trying something new."
In Wellness Through Art, the intent is not therapy. According to Heather, no psychotherapeutic relationship exists, nor is there a diagnosis or any assessment or analysis of the art process.
"In art therapy sessions, you have treatment goals, and you work towards improving cognitive and sensorimotor functions, self-esteem, and insight," Heather explained.
But that is not the case in Wellness Through Art — even though facilitated by a board-certified and registered art therapist. Wellness Through Art focuses on facilitating healthy habits to help individuals gain coping skills and thrive.
"Wellness Through Art embraces the definition of wellness. In classes, you'll experience community and thus have a reduced sense of isolation. You'll experience a reduction in stress and an increase in joy, laughter, mastery, and sense of accomplishment," Heather shared. "There will be challenges in which you are supported as you reach the successful outcome of a completed art project."
Heather recommends that if you are considering art in your mental health journey, make sure you find a board-certified and registered practitioner. "In our community, we have talented music therapists, dance movement therapists, as well as art therapists. These clinicians are masters-prepared professionals who know and respect the power of the arts and your mental health."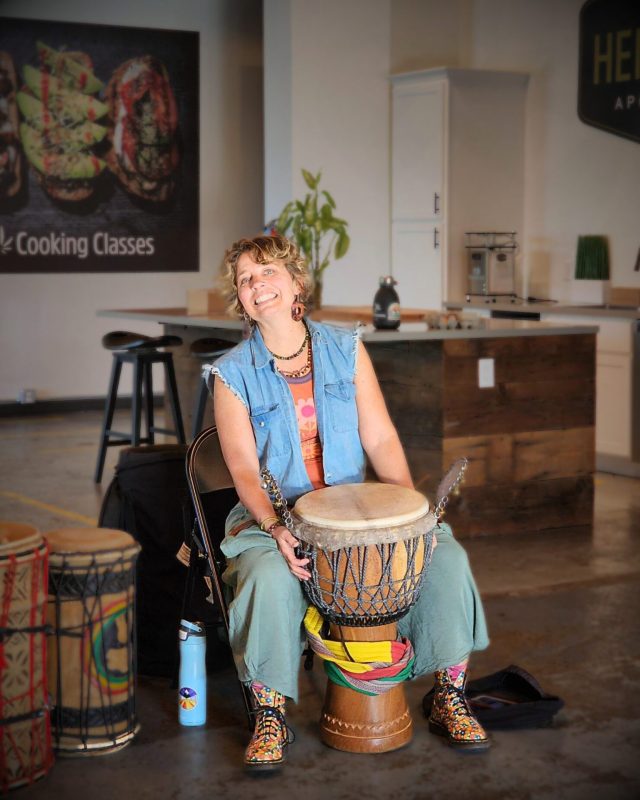 Music's Role in Well-Being
Tammi Hessen, MSW, LSW, certified in family-based therapy and a health policy analyst, teaches our Rhythm for Our Soul Drumming Circle classes. During those classes, Tammi guides participants through ancient traditional drumming rhythms, and they become inspired to express their own beats and cadences while enjoying a communal experience.
She said numerous studies have looked at the positive effects of music on mental health and well-being. According to Tammi, while those studies have targeted different groups of people with varied points of view about what defines well-being, the bottom line is that music is one of the basic remedies that helps humans feel good or better.
"In my experience, I've observed that music brings people into the present moment, which in and of itself is healing," she explained. "Music does something to our individual brains, integrating our feelings and thoughts and helping us connect to memories and other people."
Tammi added that throughout history, cultures have utilized music, including drumbeats, in community events — such as celebrations, rituals, preparation for battle, etc.
"I have found the collective experience of music synchronizes our energy to be aligned with others experiencing it with us," she said.
Attendees of Tammi's drumming sessions have reported a variety of benefits, including:
Euphoric feelings
Feeling connected with others in the drumming circle
Feeling less depressed
Feeling less anxious
Increased energy
Experiencing an ancestral connection/feeling the presence of a departed loved one
The feeling of being transported spiritually
Having fun
"Studies have been done to research the positive effects drumming has on people with cognitive impairment, and I've witnessed first-hand the power of drumming for people experiencing memory problems due to dementia and Alzheimer's," she shared.
In addition, Tammi has guided individuals with ADHD through drumming, and they've reported an improved ability to focus. She also said that people undergoing chemotherapy have told her they feel more energetic after participating in her drumming circles.
What is it about drumming and music in general that facilitates those positive changes?
"The vibration caused by the drum — and the spirit and energy of the drumming — opens up our human energy fields and helps us tap the healing energies within ourselves and the universe," explained Tammi. "Vibration loosens up the things that are 'stuck,' allowing our bodies and minds to make the necessary adjustments toward harmony. The bilateral stimulation of the brain also acts to 'rewire' our past negative experiences and can promote healing of trauma that other modalities cannot reach."
Music wields power, and Tammi recommends that anyone drumming for more than just fun or a social connection should find a group managed by someone with the training, awareness, and skills to facilitate healthy interactions.
"A lot can happen emotionally with people when they drum. When emotional windows open, you want a facilitator who is responsibly prepared for what may fall out."
Add Art and Music to Your Wellness Routine!
Check out our event schedule and register for our upcoming classes and workshops centered around art and music. In addition to Wellness Through Art classes and drumming circle workshops, we regularly offer sound immersion meditation (weekly), Puff Puff Paint Class, and Traditional West African Dance Class (monthly).
Sources:
American Art Therapy Association: artherapy.org
Americans for the Arts Blog: blog.americansforhearts.org