Sound Immersion Meditation with Peter Blum
January 22 @ 6:30 pm

-

8:00 pm

$30.00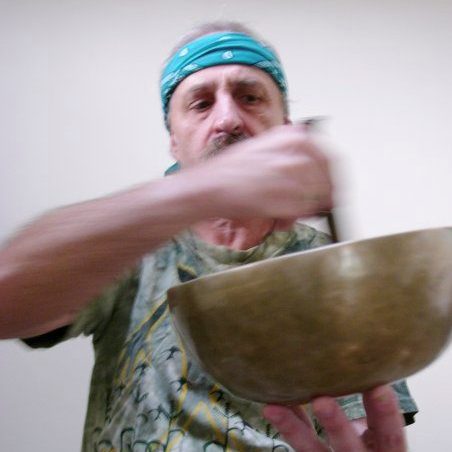 For the past 30 years, Peter has been offering sound meditations around the world. The sonorous and highly resonant sounds of ancient "Sacred singing metal" instruments, such as the  bowl, gong, and bell, are some of the most beautiful and powerful in terms of promoting a state of well-being and serenity. Featuring Peter's unique collection of over 40 Himalayan bowls, the sounds participants will be bathed in may also include Sabian resonating bells, tuning forks,  harmonic singing, tamboura, pan drum, flute, didgeridoo, rattles, rainstick, ocean drum… The most optimal way to receive these healing vibrations is lying down with eyes closed. For this event he will be assisted by Elliott Hyatt.
Class Date: January 22, 2022
Class Time: 6:30 pm – 8:00 pm
Class length: 90 minutes
Class Fee: $30.00
Instructor Bio: Peter Blum, a multi-instrumentalist, creates a unique meditational environment using large gongs, bells, cymbals, tuning forks, and his collection of over 40 Himalayan singing bowls. He has given workshops and sound healing concerts at Omega Institute, Abode of the Message, The Int'l Hypnosis Federation, The Graduate Institute, and yoga studios across America, Puerto Rico, and Mexico. Peter is also an award-winning hypnotherapist and hypnosis instructor, who has trained hundreds in the spiritual art of hypnosis. He was inducted into the Hypnosis Hall of Fame in 2021.
Reminder: The meditation starts promptly at 6:30 pm. Please arrive at least 15 minutes prior to find your space and get settled. The doors lock at 6:30 pm sharp. Also, please bring things to help you be comfortable during the one-hour sound meditation. We suggest a mat, pillows, blankets, eye mask, etc.
Related Events