Moussa Traoré Drum Class
September 23 @ 6:00 pm

-

8:00 pm

$40.00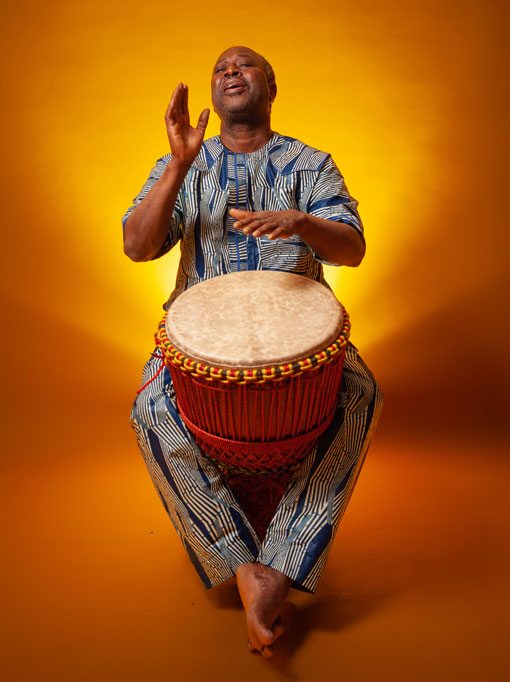 Whether you're an experienced drummer or just starting out, this is an opportunity. Moussa Traore is known for his dynamic and engaging drumming style, and he brings a wealth of knowledge and experience to every session.
Moussa's classes cater to a wide range of skill levels. His reputation as an exceptional instructor has attracted a dedicated following. The majority of his classes take place in Boston. Additionally, Moussa teaches regular weekly classes in the towns of Allston and Harvard, MA
ABOUT MOUSSA: Moussa has distinguished himself as a highly respected and sought-after teacher and performer, both nationally and internationally.
Moussa Traore was born and raised in Mali, West Africa. He has been playing the djembe for over forty years. In 1984, after completing a twelve year apprenticeship, he was deemed a Master by his teacher, Sega Cisse. Moussa has achieved great recognition internationally as an accomplished musician in theater, traditional Malian ceremonies as well as in the African pop scene. Among musicians in Bamako, Moussa is considered to be one of the top djembe players in the country. He is an acclaimed teacher and performer throughout the US, China and Europe and is considered to be a Master in Djembe music composition. He combines traditional Malian rhythms with the feel of jazz improvisation, Latin pulse and his unique vision of what traditional African sound can be. His charismatic teaching and performing inspires people all over the world.
Moussa is an Associate Professor at Berklee College of Music in Boston. He works with dancers at Harvard University, Brown University, teaches at Roger Williams University and Wheaton College and others. He offers regular community classes and private lessons, leads drum ensembles for West African dance classes, and performs for special events and workshops.
DATE: Saturday, September 23, 2023
TIME: 6:00 pm – 8:00 pm
CLASS FEE: $40
CLASS ATTENDANCE MINIMUM: 10
Related Events